Man begins reading marathon to break guinness world record, Surpasses 100hours
A Nigerian man, John Obot from Uyo, Akwa Ibom state who was inspired by Hilda Baci is set to break the guiness world record for the longest reading marathon.
Mr Obot embarked on the journey on September 9th for the longest reader with the equivalent of 145hours reading hours.
in a facebook post, he announced that he has surpassed 100hours.

THE 100TH HOUR TO HISTORY
Just like yesterday, the marathon that began with one small second, minute, and hour, has drifted steadily toward the finish line.
Despite the huge challenges and setbacks encountered on this journey, I feel deep-seated excitement when the clock hit 100 hours at 5:00 p.m. today.
The thunderous applause and wild excitement from spectators when I smashed the 100-hour landmark breathed in me, a deep sense of confidence that indeed with determination we can do wonders.
As I press forward with faith and hope, I am optimistic that 145 hours and more is achievable.
Impossible is nothing!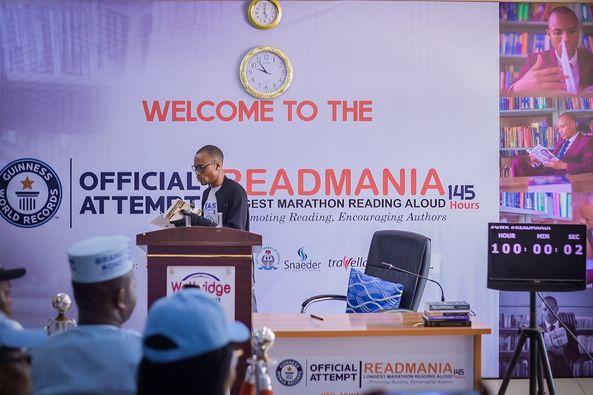 You wey no be virgin dey look for rich man- OGB slams ladies
Nigerian skit maker OGB has made waves on social media with his controversial views on the subject of marriage and virginity.
In a recent post, he said that women who are not virgins have no right to expect to marry a rich man.
OGB drew comparisons to  Virgin Mary, stating that only a woman who is pure in body can be like her.
See his post below……