I spent 2 months in Prison- Married man recounts on how DNA Test saved him after being accused of Impregnating a girl
A Nigerian man has narrated on how DNA Test proved that he is not the father of the child a girl accused him of in 2020. 
The man identified as John Emavigho who got married to his wife in 2021 disclosed that the girl, Peace ugu claimed he was the father of her daughter Michelle as he was arrested and charged to court whereby he sentenced to 2months imprisonment.
According to him, During the sentencing, he pleaded not guilty to the charges at Owhelogbo Magistrate court in delta state and and was granted a bail with a sum of N100K alongside with two sureties.
However, he stated that he knew he was not the father of the child but later agreed to settle the matter in court.
He was also charged by the girl's family with a sum of N467K for damages.
In January 2021, He failed to pay part of the money agreed in the court and was arrested and remanded in Kwale prison where he spent 2months.
Luckily for him, On may 2023, The court then ordered for a DNA Test to be conducted on the child and was seen that he is not the father of the child.
Read the full story below……..   
A girl called Peace Ugu and their full family has been accusing me that I got her pregnant since 2020, I was arrested to area command ozoro station and they charged me to owhelogbo magistrate court and ozoro high court of justice, at owhelogbo magistrate court I was facing 5 count charges leveled against me and all count is a criminal and punishable offence. And in high court of justice ozoro I was charged for civil suit right demanding for DNA paternity test the girl claimed.
I pleaded not guilty in all 5 criminal count charges leveled against me at owhelogbo magistrate court, and I was granted bail with fine of #100000 with 2 surety and I did, and in high court of justice demands for DNA paternity test, I knew very well that I'm not the father of that baby they claim to be mine, after waisting some of my money in the in court I went with my whole family for settlement December 2020 so that I can take the child responsibilities because I can't be wasting my money in something that's not really relevant, the girl family Ugu demanded for damage of #467,000 which I have agreed to pay #53500 every 60 days which is 2 months then both family agreed and we went to owhelogbo magistrate court to strock out the case leaving only high court of justice ozoro behind, February 2021 due for my first instalment to pay #53500 but January 2021 they served me high court papers to appear in court to pay them the agreement settlement fee in court dated for me to appear before the court march 3rd, I got angry then march I went to high court and the Judge told me to go home and settled with them, I invited my family again to their family house, they said I got their daughter pregnant I was denying so that's no settlement over this anymore that'll go to jail with bet.
Matter remains in high court of justice ozoro silently, I was served another court appearance paper 25th of October 2021 which I did the judge said go home again and settled with them, matter still silent in high court, they claimed they serve me court appearance paper in 2022 which I didn't see, 21st December 2022 the girl brother Oreva Ugu hold me to police officer when I was eating in a restaurant with high court order with 2 warrant, disobedience to court and failed to conduct DNA paternity test, I was kept in Owhelogbo police within 2 hours area command ozoro station police came to owhelogbo station to pick me up to area command ozoro cell, 22nd December 2022 at about 8:30am i was sent to Kwale prison correctional center, I spent 2 months and 2 days in prison remind, after I was released from prison correctional center Kwale, I got angry then I demanded for the DNA test they want for long to prove them wrong, on 23 May 2023 court order to collect my sample with the child sample, both family and court secretary present in Lily clinic warri which cost us #181000, after sample collected Lily clinic said sample will be send to Abroad and results will be out within 15 working days. DNA paternity test result came out probability of paternity 0% sure I'm not the father of the alleged child. Glory to God Almighty who stood for me. Check result below and thank God for me.
She Worked as a cleaner to send me to School in Canada – Man becomes bank manager, sends wife to the university
Abroad based Nigerian man enrolls his wife into a university in Canada after she worked as a cleaner to send him to study in canada.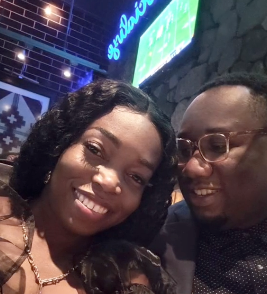 Sharing their growth and story on Tiktok, he said his wife worked hard cleaning bathrooms, toilets to further his education.
After making it in life, he paid a gesture to her by sending her back to the university to pursue a degree of her choice.
Watch the video below……..