Think about it, It's irreversible- World modified lady advises Young people who wish to be like her
Maria Jose Cristerna, The world most modified woman has warned people younger than her against Body modifications.
Maria who hails from Mexico revealed that she has 49 modifications including her forehead implant, piercings and also tongue spiliting.
During a chat with Guiness world record, Maria warned all young people who are wishing to follow her steps to be careful and also think before doing such.

"The advice I would give is that you have to think about it a lot as it is irreversible".   
"I love the way I look, but you have to understand that there are young people who are very open to tattoos and piercings and everything. 
"It's become fashionable, so we might get to a point where it's not what we want anymore, and we might not like it anymore. 
"So you have to think about it very hard in order to love it and be able to defend it your whole life." She said   

Maria who won the most Modified body in Guiness record due to her appearance disclosed that she started her modification journey at the age of 14.   
She also revealed that 99% of her body is tattooed.   
Talking on which part has been painful to her since she started her modification journey, she said;   
"One of the most painful modifications were the implants in my arms, and also the tattooing of the eyeballs".
She Worked as a cleaner to send me to School in Canada – Man becomes bank manager, sends wife to the university
Abroad based Nigerian man enrolls his wife into a university in Canada after she worked as a cleaner to send him to study in canada.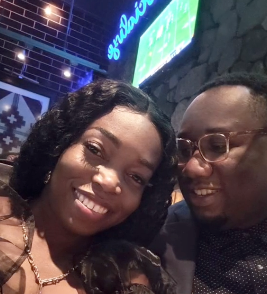 Sharing their growth and story on Tiktok, he said his wife worked hard cleaning bathrooms, toilets to further his education.
After making it in life, he paid a gesture to her by sending her back to the university to pursue a degree of her choice.
Watch the video below……..