Court Sentence 6 drug dealers to 156 years imprisonment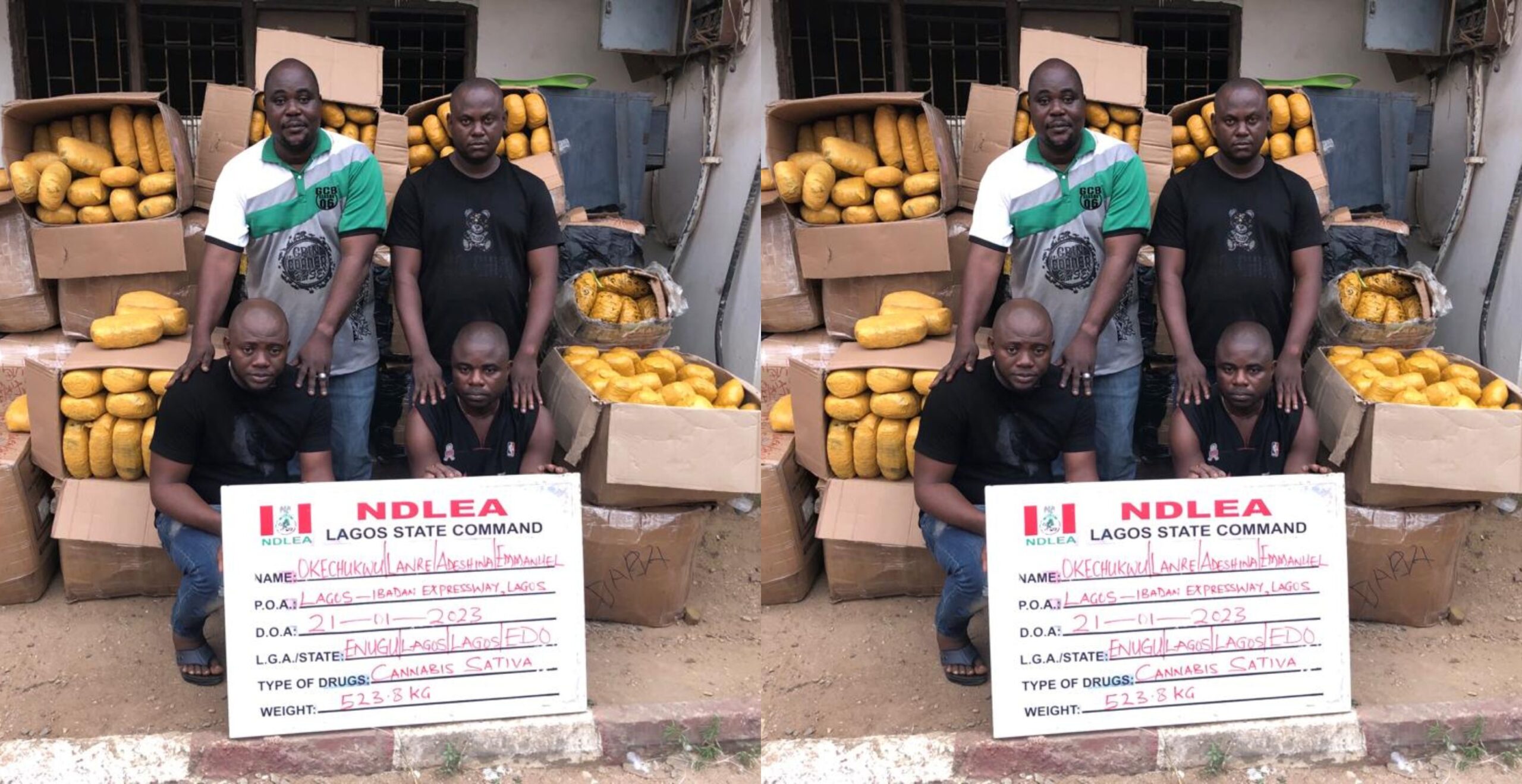 The Federal High court sitting in Lagos and ogun state has sentenced 6 drug traffickers to 156 years imprisonment for offences of on drug dealing, transportation, and conspiracy to transport illicit substances filed against them by the National Drug Law Enforcement Agency, NDLEA. 
A 27-year-old drug dealer, Ahmed Abdulsabur who was arrested in 2022 by NDLEA operatives and prosecuted in charge number FHC/AB/20C/2022 at the Federal High Court, Abeokuta, presided over by Hon. Justice Joyce Obehi Abdulmalik. Delivering her judgment on the six counts charge brought against Ahmed, Justice Abdulmalik convicted and sentenced him to 10 years imprisonment on each count, bringing the total number of his in jail term to 60. 
In a similar ruling, Justice Abdulmalik also sentenced another dealer, Olumide Elegbede, 32, to 20 years jail term; 10 years for each of the two counts charge brought against him in charge number: FHC/AB/128C/2I. The judge ruled that the years of imprisonment in both cases will run concurrently. 
At the Federal High Court in Lagos, where the quartet of Okechukwu Umeh; Lanre Adebayo; Adigun Adeshina and Emmanuel Omijeh were arraigned on three counts in charge number FHC/L/87c/2023, the trial judge, Justice Akintayo Aluko on Thursday March 16th convicted and sentenced each of them to five years on count one; seven years each on counts two and three. This brings the total number of years for each of them to 19 years jail term and the four of them to 76 years imprisonment.   
While the judge ruled that the sentences should run concurrently, he also gave the four convicts the option of paying N20 million in lieu of the jail terms. This is in addition to granting the application by the NDLEA for the final forfeiture of a white colour Ford bus with registration number: PHC 315 ZT, used in conveying 532. 8 kilograms of Loud variant of cannabis on the day of their arrest, Sunday 22nd January 2023 along Lagos/ Ibadan expressway. The court also granted the final forfeiture of Three Million Naira (N3, 000, 000) 
The drugs concealed with 'take away' food packs in 19 big cartons were seized in the white Ford bus heading to Port Harcourt, Rivers state along Lagos-Ibadan expressway at 2:35am on Sunday 22nd Jan. The convicts: Okechukwu Umen, 41; Lanre Adebayo Ismaila, 47; Adeshina Adigun Fatai, 50; and Emmanuel Omijeh, 42, were arrested in connection with the seizure and three million naira (N3,000,000) offered as bribe kept as part of the exhibits for their prosecution.
20yr old mom dies in sleep 5 months after welcoming a baby
A 20yr old mother, Caitlin Faulder pass away in her sleep from a suspected heart attack on November 19th.
It was reported that she welcomed her new born baby 5 months ago and had always complained about having "Pain in her heart"
Despite that,Her sister, charlotte told the Hull Love that  Late Caitlin went to hospital where she was told by doctors that everything is fine.
"When she was pregnant she had an ECG, which showed an abnormality, but they didn't think it was anything to worry about.
"She was going to have an echo-scan when Poppy was six weeks old."
"When she went to the doctors, all they kept saying was 'everything is normal, everything is fine, your blood pressure is fine'," she added.
"On Saturday night, she was absolutely fine – she was dancing and enjoying being with her daughter.
"She was going to put her Christmas tree up this week and had already bought her Christmas presents for her daughter and had wrapped them up." Charlotte said
To their greatest surprised, they were all shocked as she stopped breathing and was unresponsive.
During the scene, Ambulance was called and they told the family of late caitilin probably had an heart attack in her sleep.
Charlotte noted that the heart issue is all in their family as their father, John suffered from the heart failure and this made their grandfather pass away.